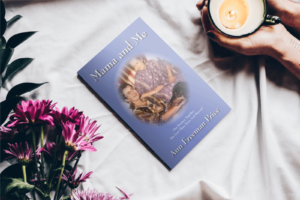 Mama and Me—Our last three years together and beyond is a book about a relationship, built over 50 years and culminating in Mama's death.
It includes glimpses into their past and how that impacts their present, because their push and pull with each other is built over time. It results in both of them—mother and daughter—wanting to work on hearing each other and then following through with action. It is a book with many levels.
Ann is a music therapist and gives insights into how she uses music therapy with her Mother and for herself. She works in the nursing home where her Mother spends the last year of her life. The music is a foundation for each of them. It helps them create new aspects of their relationship, and is present for Ann following her Mother's death. In the music therapy training, Ann is able to continue to work on her own grief using the music that has held her so far.
Another level of the book is the religious aspect. Both mother and daughter are persons of faith who have actively prepared for the time of death long before this time frame. They have read books together, have had discussions, so that when this end time comes, they are as prepared as they could be. Ann discovers some surprises along the way. Mama and Me is a story of generations.
At one point Ann, her daughter, and her mother live together with all the expected ramifications. Readers will find stories within the story of Mama caring for her own mother and Ann%u2019s daughter arriving to helping. Through the remembering of this, Ann sees how similar commitments are being carried through in her own caretaking life with Mama.
There is a nursing home level with the unusual aspect of "family" being also "employee." The stories indicate the creativeness of this particular facility, and at the same time they show institutional blocks that appear. And near the time of death, the book describes how the staff rallies to be supportive to the family.