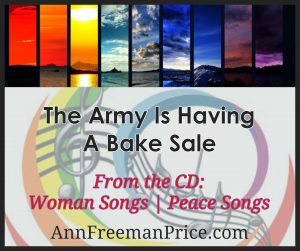 The Army Is Having a Bake Sale
The Fellowship of Reconciliation, headquartered in Nyack, NY once put out a postcard that said the titled of this song!
The situation hasn't changed in that our defense budget continues to grow and grow and grow—with few or no audits or accountability—and sometimes making contracts to make things that the armed services don't even want any more.
Some of us work hard at having a personal budget and sticking to it. I'd be happy if the Pentagon did the same thing—have a budget that was reasonable and kept in balance with the other pressing needs of this country—and then stick to it.
The last verse says: The people say "This ain't the way. We're shouting out our NO! So stop it—and put some time. Stop it—and put some money. Stop it—and plan a program for peace.
And as a United Methodist laywoman I say, "Amen."