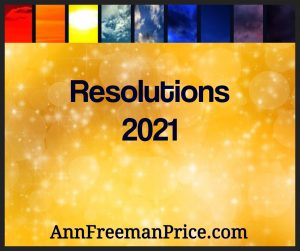 It is February and this is my end-of-January report on New Year's Resolutions. I made nine this year and as I accomplish them, I'll reveal what they were.
Resolutions 2021 Update
Out of the nine, I did something on five of them in the month of January; and did nothing on four of them. That's better than 50 / 50 — pretty good for the first month.
This is the first year that I'm doing a tally at the end of each month. I think it's a good idea and keeps me planning to do better.
Last year one of my accomplishments was to publish Daybook of My Personal Faith, and in that book in the month of January I write one day about setting goals (or resolutions) for the year. One of my guidelines is that I can add resolutions anytime and if something is truly not working and seems like it's not going to work, I can drop it. So it's a flexible plan.
Now that I'm doing a monthly tally, I'm also adding the guideline that I can catch up. If I did nothing in the first month, I can catch up in the second or third or fourth month.
In the year 2020, I made seven resolutions. Two of them I did nothing on all year. Two resolutions I kept and completed. And three of them I did partially.
So here's to 2021 and having resolutions work for me!