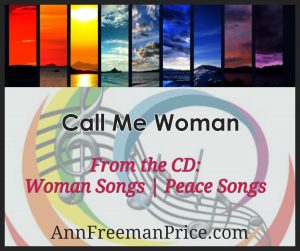 Call Me Woman
Language is important to me. I'm not a lady. I'm not a girl. I'm a strong, resourceful, creative woman. My name is Ann—without an "e".
I think whenever you say "She's a….." you need to double check yourself because first and foremost we are women.
It starts somewhere just before teenage years. When a young woman is even eleven or twelve, she's not a little girl anymore—she's a young woman. And it continues as we who are female continue to grow in years.
I push aside the labels—old lady, sweetheart—and I ask for clarity. Just say it plain, let the words come out of your mouth—she's a woman, and quite a one at that.
Sometimes I think that the person who is calling you sweetheart or lady thinks they are paying you a compliment. Maybe it is a compliment to some people. But sometimes it's antiquated or patronizing. Sometimes it's a political put-down.
So play it safe and call me woman.