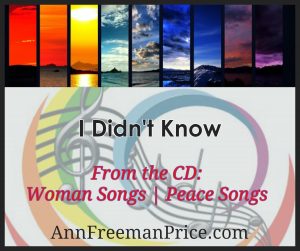 I Didn't Know
My mother and I had talked together long before she died about her dying. We read books together (for instance, "Last Letter to the Pebble People" by Virginia H. Hine), we had conversations, we wrote about it in letters.
And when I sat by her side the last seventeen hours I thought, "This is it—she is dying."
But IMMEDIATELY after her death, it was different. There was a part of me that screamed silently "NO.O.O.O.O——I do not accept this. This is not what we were talking about."
And within months this song came to reinforce what I was feeling—I truly didn't know what it would be like. I didn't know how hard it would be. And I wanted her back.
Listen to the wanting.