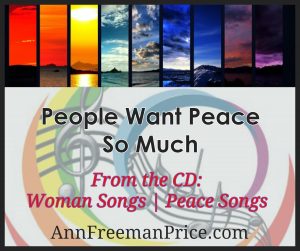 People Want Peace So Much
Dwight D. Eisenhower spoke the words that are the beginning of this song in London in 1959: I wonder when governments will listen to the people? Or, I wonder when the people will insist that their governments "get out of the way" and let them have the peace they want.
It's a round and it is truly a round between governments and people.
What would it be like to have peace? How long has it been since there has been peace around the world, and no war going on anywhere?
Google that one——but it certainly isn't now.
So get ready to insist.